Sea Dog Theater is an Award-Winning non-profit theater company in New York City. We produce new, established and devised plays centered around questions of alienation & reconciliation.
Our productions have toured internationally in London, Berlin, Edinburgh, and Vancouver B.C. We are committing to cultivating a professional and hospitable theater environment where both artists and audience thrive.
In our 2017/18 season we produced 2 full productions including the devised piece "NOT FROM HERE" as Artists in Residence at the Ace Hotel New York, 9 reading events, 2 play development readings, collaborated with over 100 artists, welcomed over 1,200 audience members, and received SEVEN New York Innovative Theater Awards Nominations and TWO Wins (Outstanding Director and Outstanding Revival of a Play) for our production of "Danny and the Deep Blue Sea" by John Patrick Shanley!
See below for more about us and be sure to sign up for our mailing list so you don't miss a beat.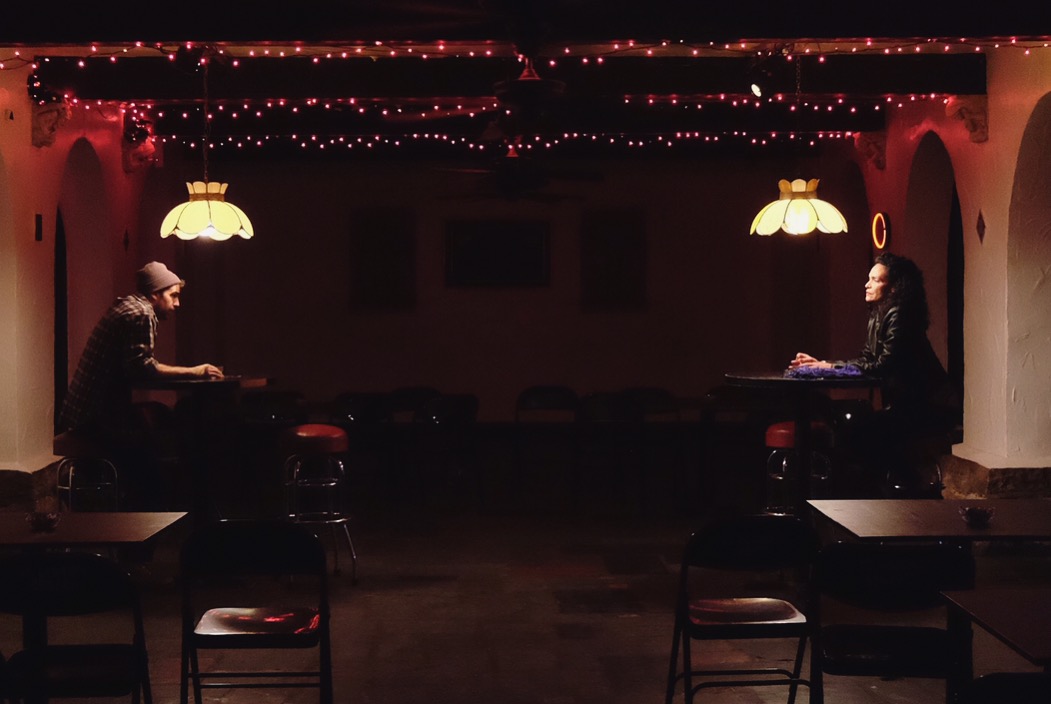 the stories we tell
We are interested in stories where the experience of alienation and the struggle for reconciliation intersect. All great plays explore these questions to some degree, but certain plays address these realities with greater compassion and understanding. We produce new and established work.
Why theater?
We believe that the act of honest and compassionate storytelling matters. The theater is one of the last places in our culture where challenging but essential questions are asked in a public space. The theater invites everyone to go off-line in order to be present to the exploration and conversation of the play. Community and humility take priority over individualism and certitude. Asking questions in a room full of strangers is a reconciliatory act, in an culture where people are increasingly feeling alienated and misunderstood.
Hospitality
Our artists and audience are why we create theater. Our hope is that every aspect of our production reflects our commitment to hospitality as much as it does to excellent theater. We set up a banquet table with food and wine after each performance for the sake of continuing the conversation. The playwright, actors, designers and the audience all play an equally important part at Sea Dog Theater. Whether you are an artist or an audience member, we hope you will feel at home with us.
WHERE IS SEA DOG THEATER?
Sea Dog Theater is honored to be an artist-in-resident with the Calvary-St.George's Episcopal Church at the Off-Off-Broadway space "Olmsted Salon" at St. George's Episcopal Church at 209 E 16th St, New York, NY 10003.
WHAT DOES SEA DOG MEAN?
The term "sea dog" may refer to an experienced sailor, a 16th century elizabethan pirate, or a rainbow-like formation seen in foggy conditions. We chose the name Sea Dog Theater because life both on and off the stage feels much like being out to sea: we have every intention of reaching land, but due to inclement weather, diminishing provisions, and the possibility of chaos on board, there is no guarantee we will reach our destination. Occasionally, we see a rainbow-like formation and wonder what to make of it.
HOW CAN I GET INVOLVED?
We are always interested in meeting new actors and theater artists in the NYC area and welcome new play submissions that fit our vision. The best way to get involved is to show up at an event and introduce yourself!
We welcome interns as needed. A background in theater, arts management, and production is preferred. Our interns are asked to participate in every aspect of our company and events. Contact: janelle@seadogtheater.com
WHO IS SEA DOG THEATER?
Sea Dog Theater was founded in 2016 after two successful collaborations between Christopher Domig and Janelle Garcia Domig: the international tour of DIRT (New York, London, Berlin, Edinburgh, Vancouver BC), and The Waste Land, co-created with Daniel Domig (New York International Fringe Festival). Together they discovered that the central questions in their work addressed the theme of alienation and reconciliation. They established Sea Dog Theater in order to explore in greater depths how the experience of alienation and reconciliation pervades all aspects of the human condition. Sea Dog's inaugural event took place on April 21, 2017.
CHRISTOPHER DOMIG/ARTISTIC DIRECTOR
Christopher is an actor and director in New York City. Recent acting credits include: The Waste Land: A Performance/Installation at FringeNYC, English World Premiere of Dirt in New York (59E59, 4th Street Theater), Edinburgh (Gilded Balloon), Vancouver (Pacific Theatre), Berlin (ETB), and London (Arcola Theatre). Recent Film: Eve (dir. Tate Taylor, opposite Jessica Chastain) Recent TV: Blue Bloods, Boardwalk Empire, Black List, Law & Order: SVU and Blindspot. BFA: Wheaton College, MFA: Southern Methodist University. www.christopherdomig.com
JANELLE GARCIA DOMIG/GENERAL MANAGER
Janelle produced Dirt and The Waste Land and did publicity for the plays when they ran in Vancouver and New York City. She previously worked as a producer's assistant for Rabbit Bandini, where she coordinated festival runs for the films Feast of Stephen, Herbert White, Saturday Night, and A Clerk's Tale by director James Franco at the Berlin, Cannes, SXSW, and Tribeca Film Festivals. Janelle studied Film & Digital Media at Baylor University in Texas. She was born and raised in South Texas and is a member of the National Association of Latino Arts and Culture.
WHITNEY BAHR/Artist and community development
Whitney is a graduate from the University of Florida where she studied Family, Youth, and Community Science and Theater. She is a trained vocalist, writer, and actor, her writing including music pieces, lyrics, and stage productions. She has performed across the nation, including Disney and Carnegie Hall, always entering into her work with a desire to deeply understand people and connect them to the most beautiful parts of life. Whitney has worked in several nonprofits, specializing in donor communications, event coordinating, and publicity. She was the Founder and Director of Art in Motion Theater Camp in Florida and the Director of the Man Up, Speak Up Camp with The Women's Center - where she worked to co-create several Public Service Announcements that premiered on MTV, city billboards, and YouTube. Whitney's passion is to use the arts as a way of uncovering truth, both the beautiful and the brutal.
JENNIFER HIBBS/artistic associate
Jenn is indigenous to Portland, Maine. She traded in her accent for a B.F.A. in Acting at Marymount Manhattan College. She spent many years in the improv and sketch comedy world and continued her acting studies at Michael Howard Studios. For the last few years, she has studied photography and painting. Last spring you may have seen her in Sea Dog Theater's reading of Middletown. She is so excited and so grateful to be joining the core team at Sea Dog Theater as their artistic "Gal Friday" and to be the assistant director and stage manager of Danny and the Deep Blue Sea.
Brian oh/Videographer and editor
Brian Oh was born in Illinois, USA, raised in South Korea and spent time living in Germany as a teenager. Dropping out of college in South Korea, he moved to Chicago to pursue his film studies at the School of the Art Institute of Chicago. Soon after graduating from the school, he moved to New York City and has worked on several short films, documentary, music videos and multi-media projects and shown his works to several screenings and exhibitions. Currently, he is developing personal film projects, while working as a videographer/editor for a wide range of clientele. www.deeprootfilm.com
Kamel Boutros/music director and composer
Kamel Boutros, born in Egypt, graduated from the Curtis Institute with a MA degree in Opera performance. He performed with pianist Martha Argerich in Europe and Japan. He has sung at the Edinburgh Festival and at the Metropolitan Opera, as well as in a gala concert with the late Luciano Pavarotti conducted by James Levine. He was the first prize winner; at the Opera Index's Competition and the Sullivan Foundation Career Award. Kamel's recent music arrangement of "God Be With You Till We Meet Again" was used in the show Damages. Kamel played the part of Papin and also music directed the play Babette's Feast in NYC, directed by Quinton Gordon in 2010. Several of Kamel's performances can be seen on youtube, including his concerts with pianist Martha Argerich. Presently Kamel is the music director of The Parish of Calvary-St. George's Church and Concert Series in New York City, and continues his work in acting, singing, and as a pianist in chamber music concerts. www.kamelboutros.com
ADVISORY BOARD:
Sea Dog Theater is grateful to have the support of the following individuals serving on our inaugural season's advisory board.
David Dark, Author, Professor, TN

Chris Cragin Day, Professor, Playwright, NY

Alison Donnelly, Writer, NY

Vincent D'Onofrio, Actor and Director, NY

John Foote, Attorney of Law, Baker McKenzie, DC

Natalie Foote, Executive Director, Restoration Immigration Legal Aid, DC

Michael Howard, Director, Actor, Acting Teacher, NY

David Jennings, Executive Director, Incarnation, Vancouver B.C.

Joe Kickasola, Professor, Author, Filmmaker, NY

Linnea Kickasola, Opera Singer, Liturgist, NY

John Kolvenbach, Playwright, NY

Zac Martin, Director, Trellis, NY

Steven Purcell, Executive Director, Laity Lodge, TX

Meaghan Ritchey, IMAGE Journal, Director of Marketing & Communications, NY

Jacob Smith, Rector of Calvary-St.George's Church, NY

Anne Snyder, Comment Magazine, Editor-in-Chief, DC

Chris Staffel, Entrepreneur, TX/NY

Alissa Wilkinson, Critic, Professor, NY